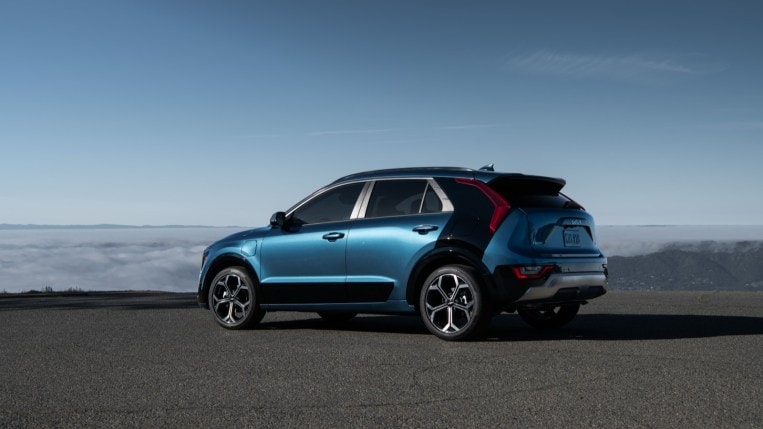 The 2023 Kia Niro Plug-in Hybrid (PHEV) starts at $33,740, plus a $1,295 delivery fee.
The Niro PHEV can travel up to 33 miles on electric power alone, then use gasoline for longer trips.
Kia offers practically an entire lineup of cars with just its funky little Niro crossover. All-new for 2023, the Niro is one of the most sensible products imaginable.
It has all the utility of a wagon or small SUV packed into an easy-to-park compact-car footprint. It's available as a hybrid good for up to 54 mpg for as little as $26,490 (plus $1,295 for delivery). You can find an all-electric Niro with up to 253 miles of range (starting price $39,990).
Or you can split the difference and have an electric car for around-town driving and a hybrid for road trips with the Niro Plug-in Hybrid. It starts at $33,740, Kia announced today.
Quirky New Look
For 2023, the Niro PHEV remains the practical little wagon it's always been but gets a more noticeable new look. It wears the sharpened nose of most of Kia's current lineup, with slightly more rugged lines than the old model. But it's the "aero blade" you notice.
Its chevron-shaped body panel, stretching from roof to wheel well, stands out from the rest of the body like an air vent. Kia offers it in body color or painted in a contrasting color from the rest of the bodywork. Painted to stand out, it gives the Niro a sophistication few small crossovers can match.
The 2023 Niro PHEV looks more sophisticated inside, as well. A sleek new minimalist cabin pairs the driver's instrument screen and central touchscreen in one housing, so they look like a single wide, curved screen. It's a look you'd expect in a more expensive car. It looks particularly sharp paired with available aluminum pedals.
The Niro Plug-in Hybrid is the middle child of the Niro family from a power standpoint. It gets 180 horsepower, compared to 139 for hybrids and 201 for all-electric models. It can travel up to 33 miles on electric power alone before turning on its gasoline engine.
2023 Kia Niro Plug-in Hybrid Pricing:
Kia also charges a mandatory $1,295 delivery fee on all Niro models.
| | |
| --- | --- |
| Trim Level | MSRP |
| Niro Plug-in Hybrid EX | $33,740 |
| Niro Plug-in Hybrid SX Touring | $39,490 |