[ad_1]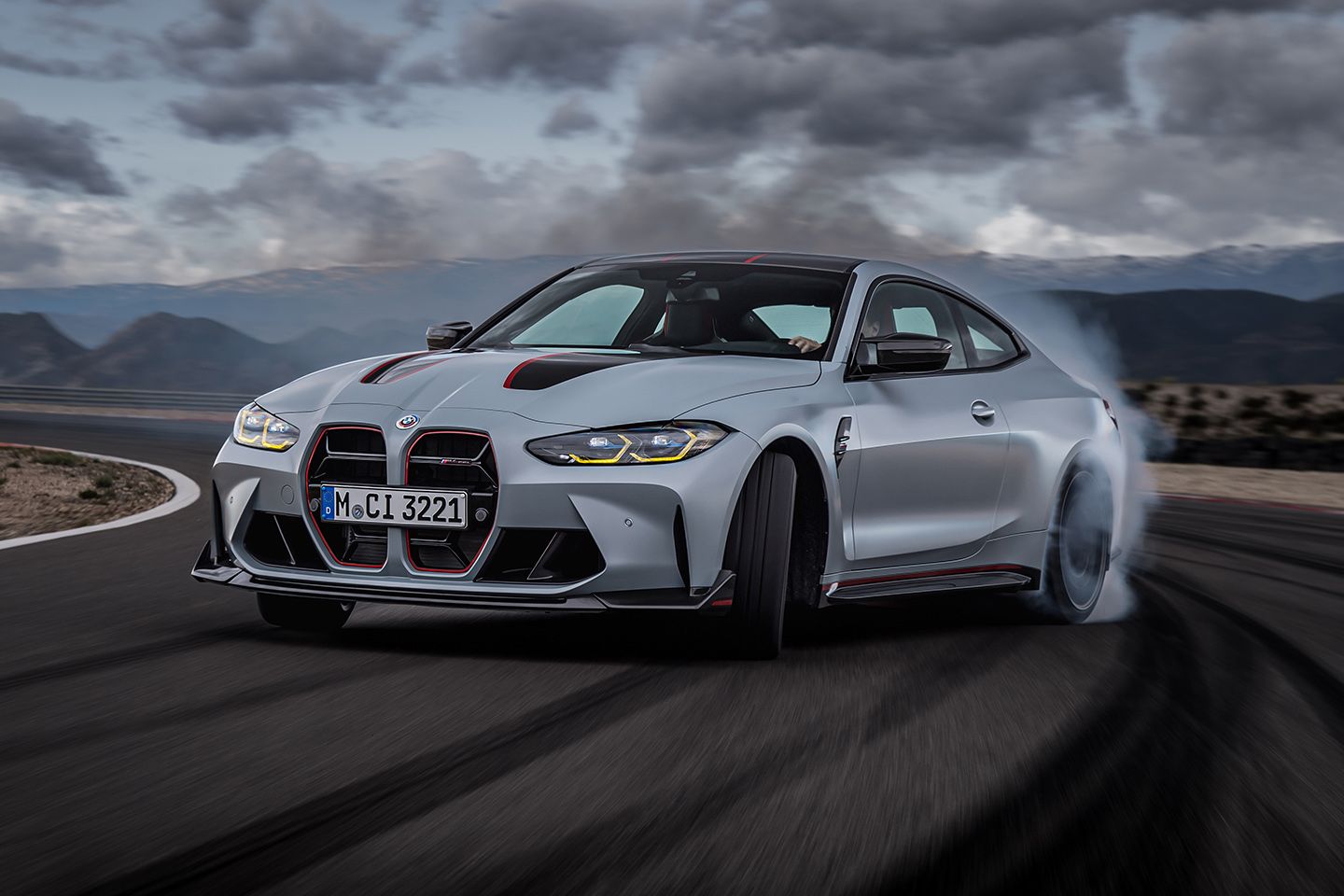 Though this is the first BMW CSL in 20 years, and there's a huge amount of track-optimised tweaking to talk about, this is also a G82 M4. A modified one, at that. So let's get how it looks out of the way first… 
Yes, they are yellow lights up front; like the M5 CS, this new M4 gets BMW's Laserlights as standard. That's probably the least contentious part of it. Because, yes, that's also red pinstriping for the new (1.2kg lighter) carbon bonnet, and for the kidney grilles (also now 500g lighter with fewer bars), and for the badge. Which probably won't be as popular as racecar-style lights, not least with the red continuing for the chunkier, 'CSL'-badged front splitter. And there's plenty more besides… 
There's more red accenting along the sides (Alpine White and Sapphire Black will be offered alongside the Frozen Brooklyn Grey pictured), wheels specific to the CSL, a carbon roof with red highlights, a natty integrated spoiler like the M3 CSL and four enormous pipes for the titanium silencer. Note as well the new rear lights, also lasery – "all light functions use LED units, while the covers have intricate light threads woven into them, illuminated using laser technology" – and said to be a first for a series production car. Basically, there will be no mistaking the CSL for any old M4 Competition, whether from the front or back, during the day or at night. Which, given what 100 UK buyers will be asked to pay for the privilege of owning one, can only be a good thing.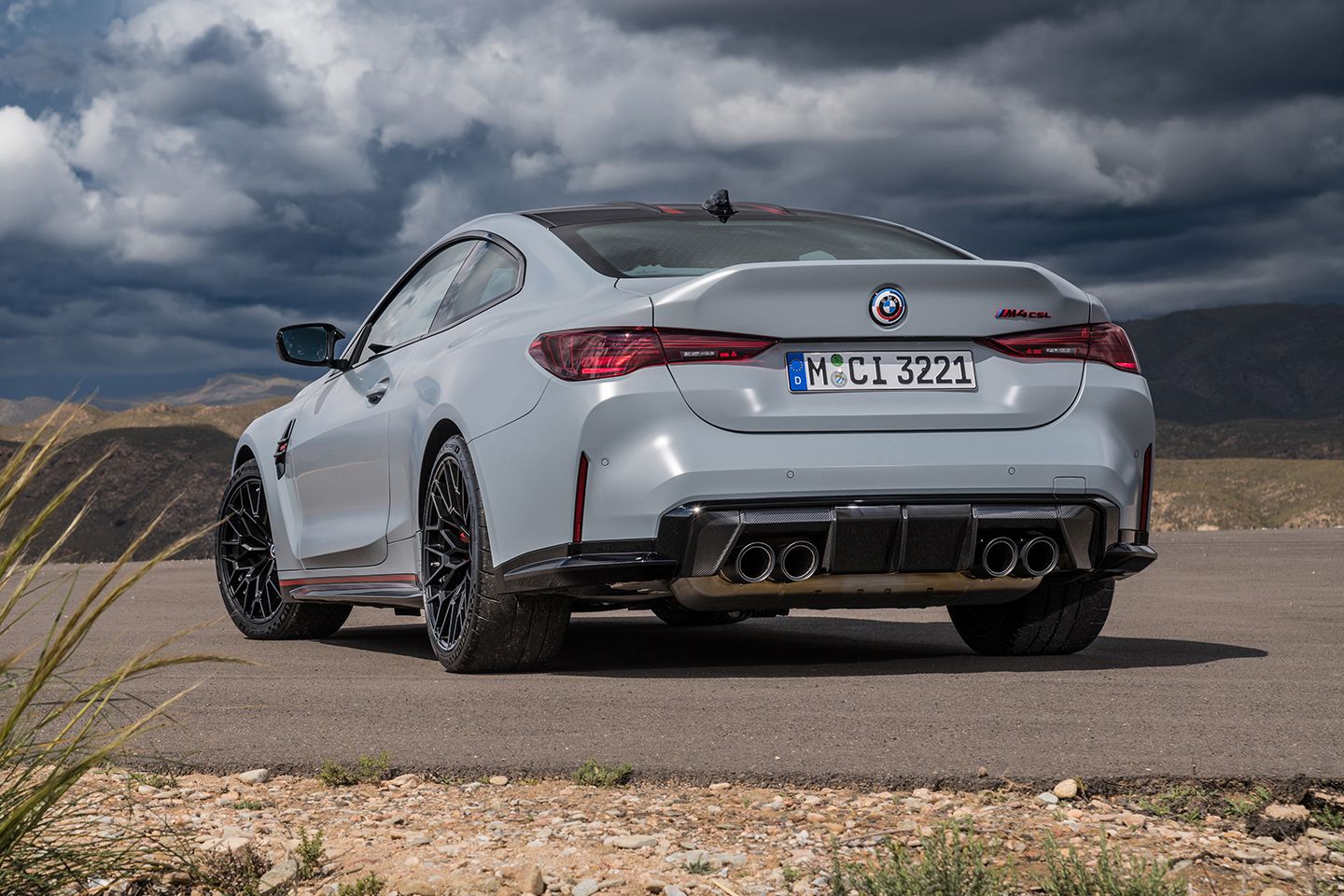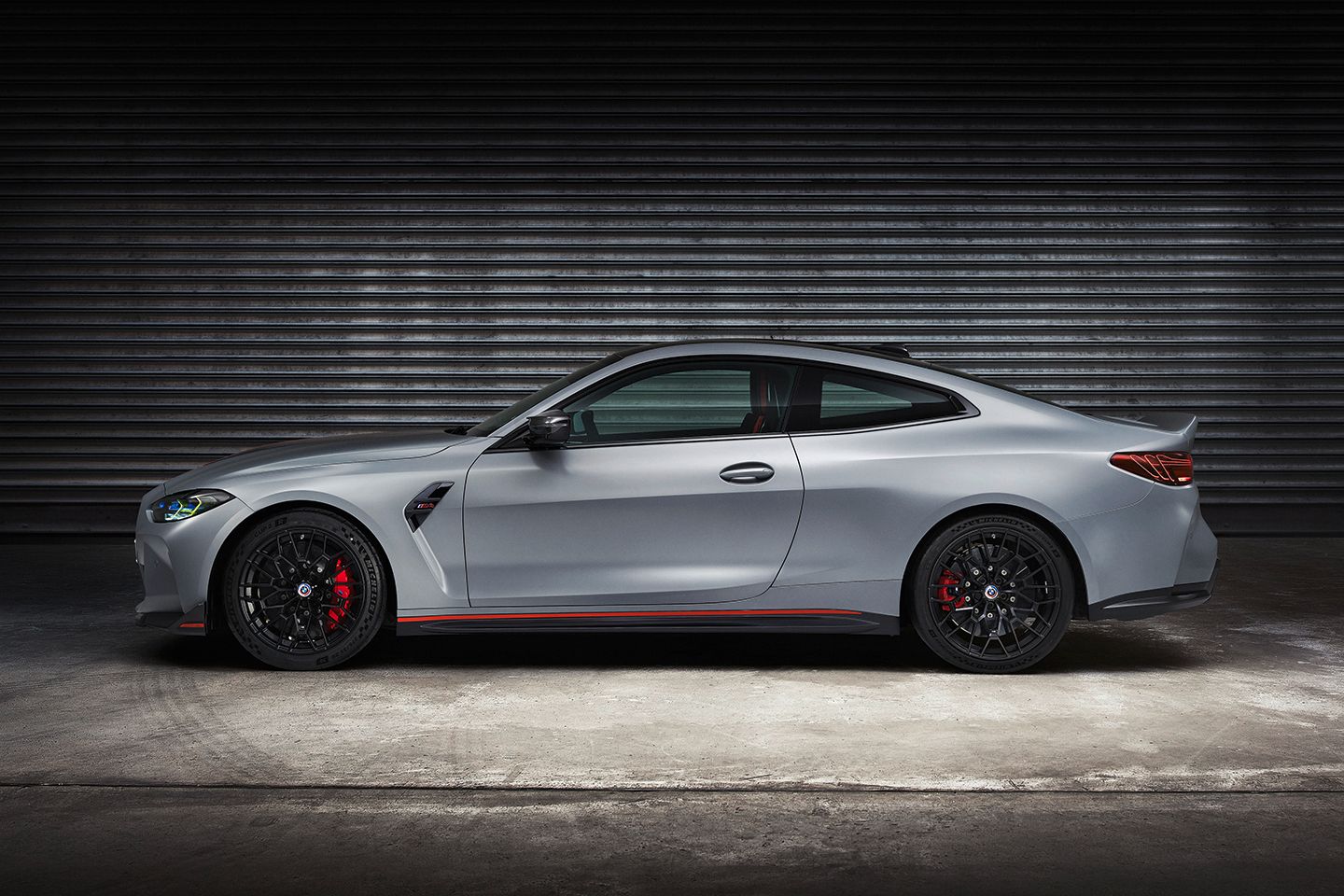 But there's a whole lot more to the CSL than lasers and red bits. The headline figures are mighty, this new M4 representing nothing less than the fastest track car ever built by BMW. Power for the S58 3.0-litre twin-turbo straight-six is up to 550hp, which means 0-62mph in 3.7 seconds and 190mph. Meanwhile, weight is down by 100kg against a standard Comp to 1,625kg, and the Nurburgring lap time is 7:15.677 – which, for context, puts it in the same ball park as the Lexus LFA Nurburgring and Chevrolet Camaro ZL1 1LE. The CSL's official notarised time will be 7:20.207, the number for the 12.943-mile lap – still quicker than a Jaguar XE Project 8, interestingly, which clocked a 7:23, if some way off the 992 GT3 which the BMW will inevitably be compared with. It snuck in under seven minutes at 6:59.93.  
As CSL tradition dictates, BMW has gone to town with its weight loss programme. And left it still quite heavy, some will argue – but they're cool modifications, nonetheless. This is now a two-seat M4, with the removal of the rear bench eliminating 21kg. Those outrageous carbon front buckets save another 24kg, with another 21kg gone thanks to those lighter wheels, the standard ceramic brakes and CSL-specific springs and struts. A switch to lighter sound insulation trims 15 more kilos, the titanium bits of the exhaust are worth 4kg, the CFRP body bits deduct another 5kg and another four is gone through the changes to the grille, rear lights, floor mats (!) and climate control.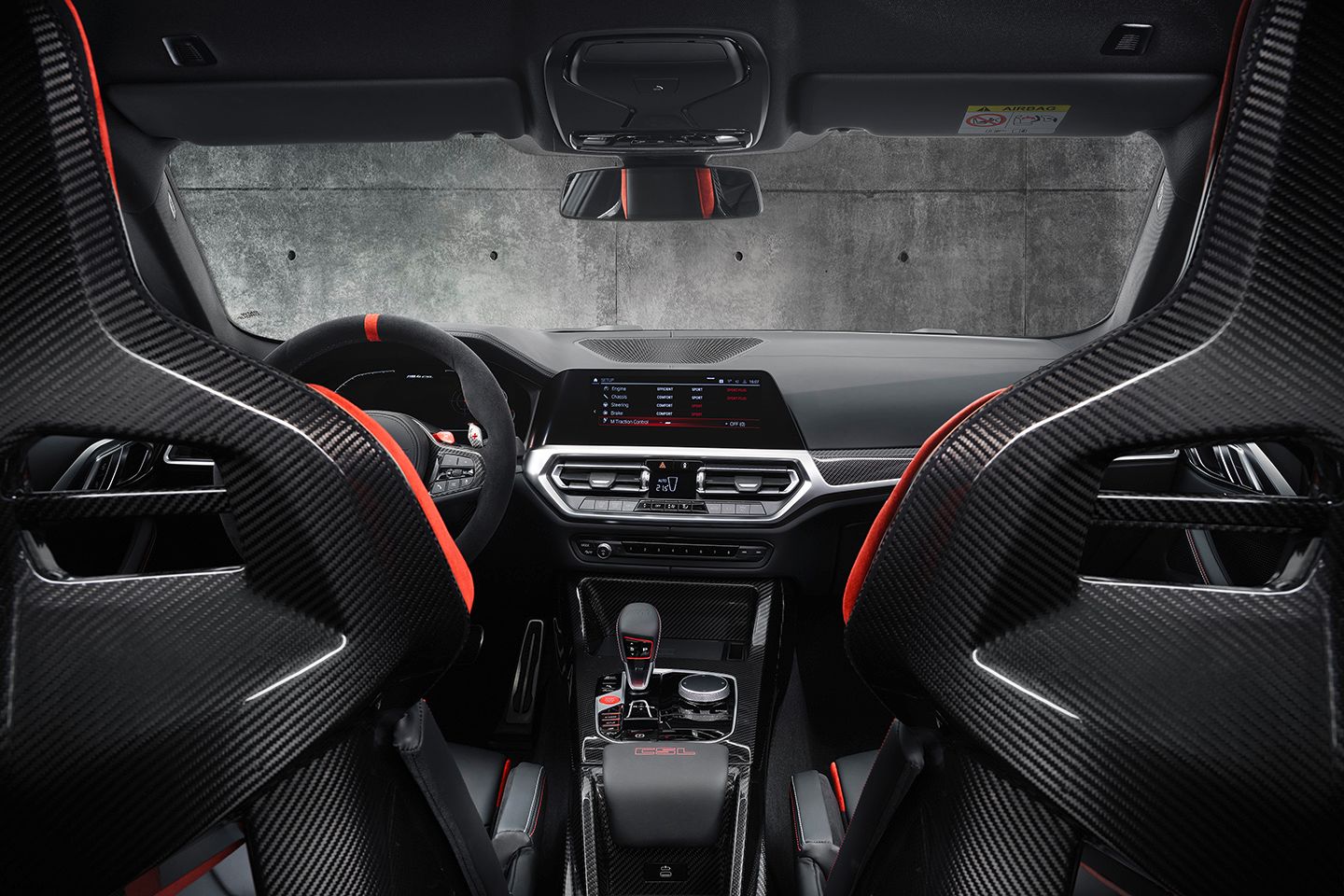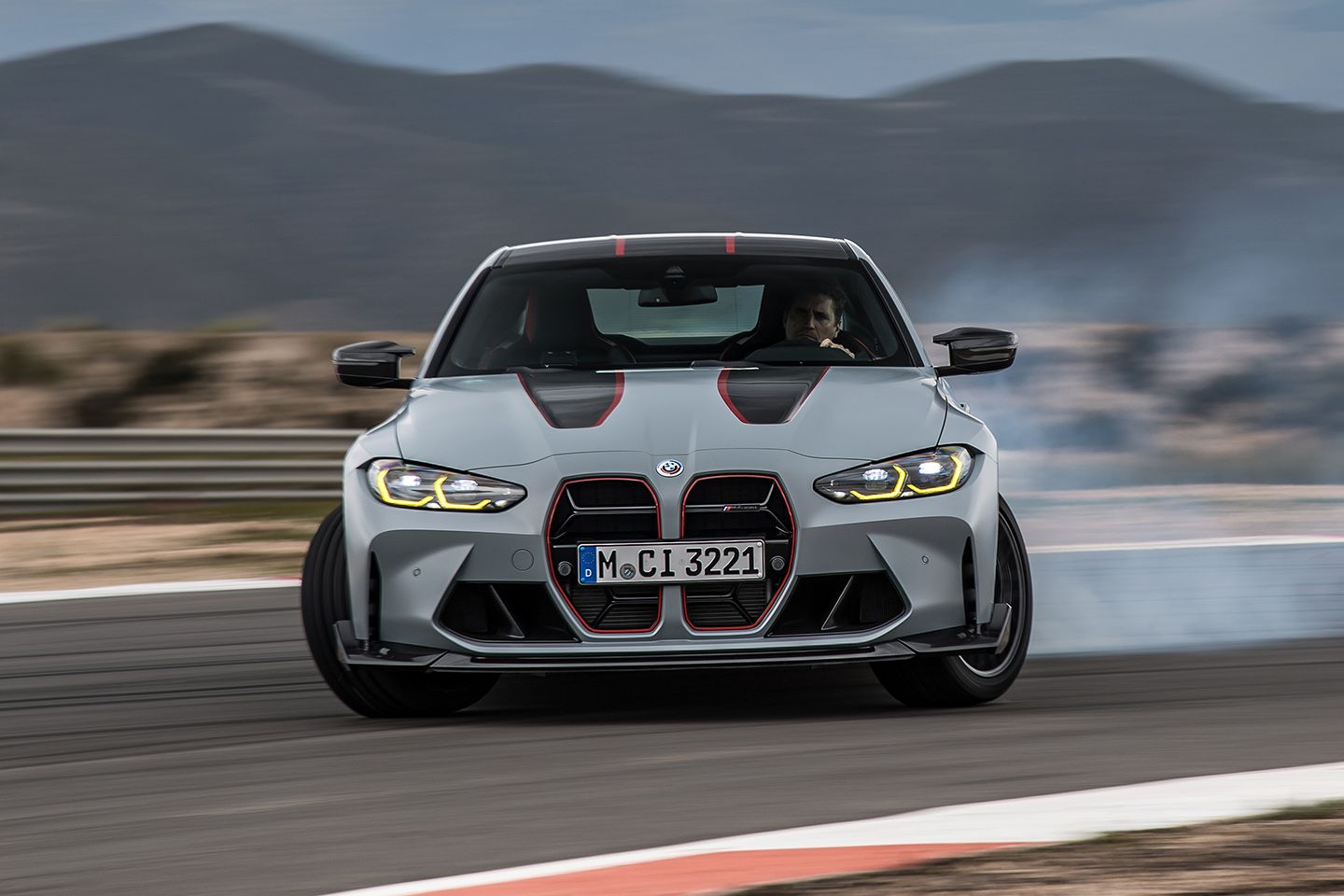 Elsewhere, the car rides 8mm lower than standard, with helper springs on both axles to "improve road contact in dynamic situations." A new under-bonnet brace is obviously intended to increase structural stiffness, with both engine and transmission mounted more rigidly than standard. The front axle has been modified to permit additional negative camber (encouraging given how well the Comp already responds to steering inputs), and the rear axle now benefits from ball joints in place of rubber mounts for the subframe and wheel carrier control arms.
If that doesn't sound serious enough, BMW has also bolted the subframe to the body with no rubber whatsoever, which it says benefits stability. The traction control has been tweaked, too, now the responsibility of the engine management rather than the DSC, which BMW says allows "the engine's power to be adjusted with exceptional sensitivity when accelerating on slippery surfaces." The standard tyre is a Michelin Cup 2R, 275-section at the front (with a 19-inch wheels) and 285 on 20-inch rim at the rear, mirroring the standard wheel size. A less focused tyre option will be made available.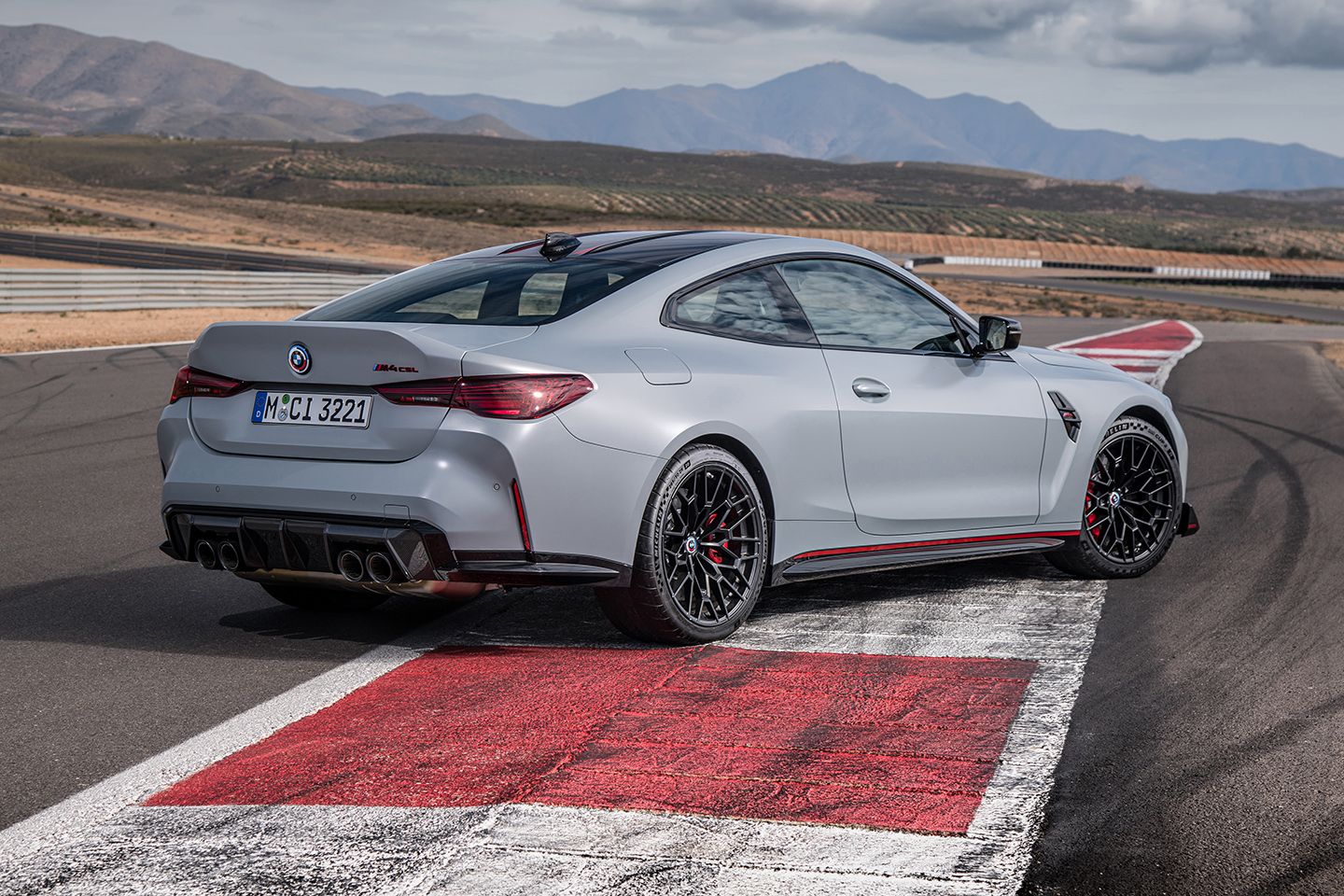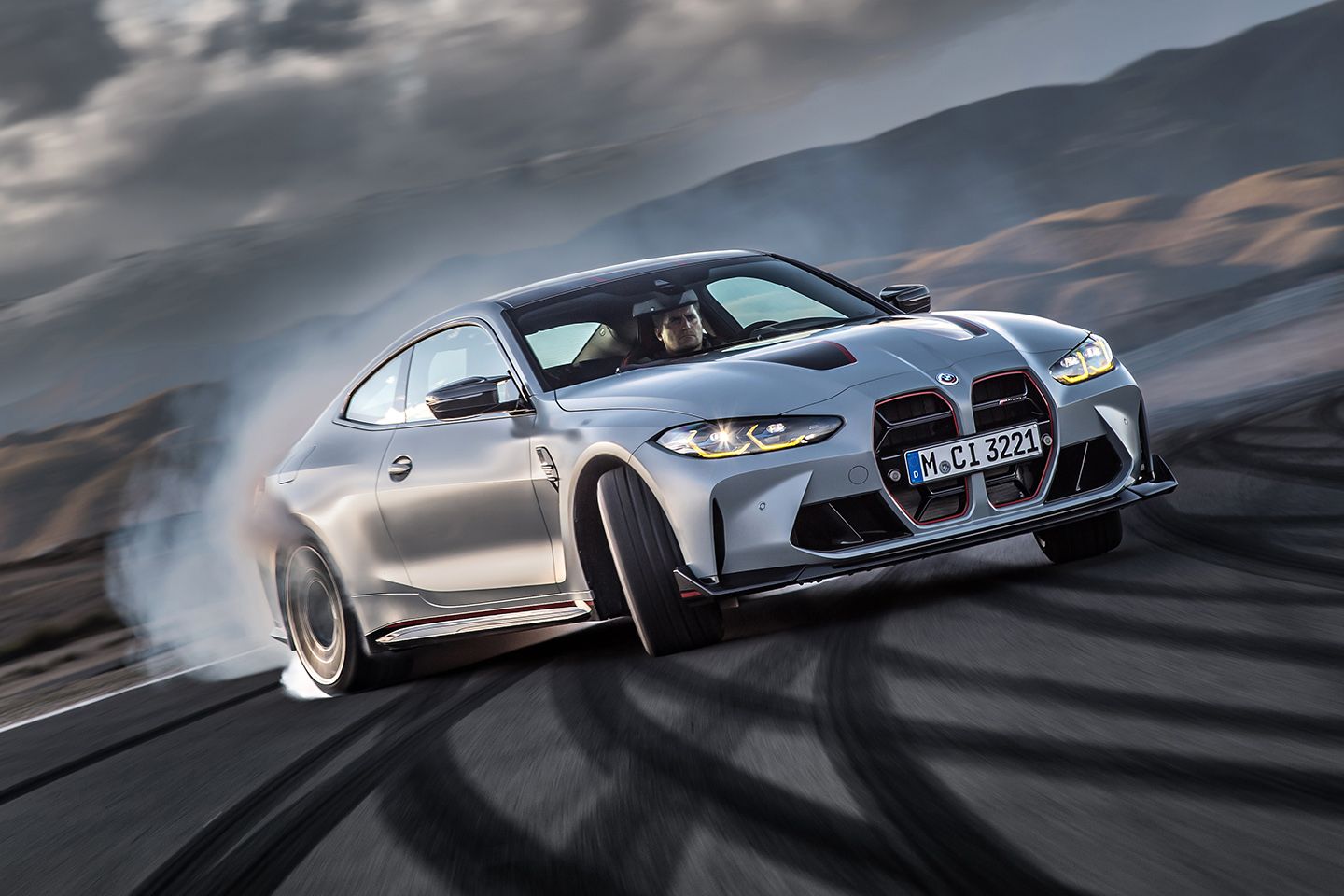 Inside the CSL is familiar from the M4, at least from the B-pillar forward where the solitary pair of seats are. There's more Alcantara and more carbon, as befits a circuit special, some CSL embroidery and some M tricolour seatbelts that you might want to immediately switch for harnesses. But it's recognisably M4,
which is no bad thing, right down to the Head-up Display, M Drift Analyser and standard auto gearbox lever. 
BMW is going to build 1,000 examples of its flagship model, with the UK set to receive 10 per cent of the production run. Interestingly, those 100 cars are available to order now – or at least some of them are – priced from £128,820. Which is about £50k more than an M4 Competition. Staggering, yes, but CSL tradition as well – remember the uproar when an M3 CSL commanded almost £20k more than standard E46 for another 17hp?
No doubt the GT3 will be mentioned again at this point, but it's worth remembering that you'll need another £100k on top of the BMW's asking price – yes, seriously – to secure one of those right now. Heck, even an actual M3 CSL isn't much less money. BMW hasn't put an exact date on a launch and deliveries for the M4 CSL, but we can surely expect it at some point during the 50th anniversary year. If we were betting men, N24 and/or the Festival of Speed would seem like an ideal place to start…
[ad_2]

Source link