[ad_1]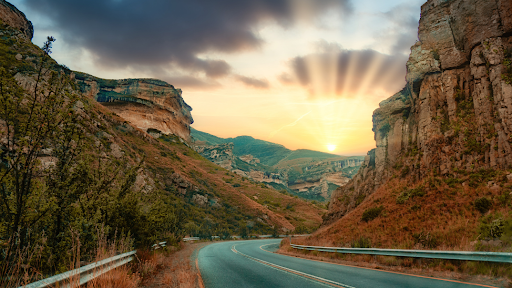 In the heart of South Africa lies the Free State, often overlooked as it more often than not is simply the province we whizz through en route to our seaside holidays… But it offers so much more for the adventurous traveller! We packed the rather spacious Suzuki Baleno to the brim and headed out in exploration of this vast province.

Estimated reading time: 5 minutes, 17 seconds.
Learning that the province's capital (and legislative capital of the country), Bloemfontein, was the birthplace of JRR Tolkien, the author of the Lord of the Rings and The Hobbit, I could not help but think of an interview with him I read a while ago. When asked about how he navigated his thoughts through creating Middle-Earth, he quipped, "I wisely started with a map." So we followed suit, dusted off our map books and set out to explore.
First up was the world-famous Golden Gate Highlands National Park. Driving the Lichens Pass that runs through this park, we could not help but continuously stop to admire the breathtaking views featuring majestic rolling mountains and a field of flora and fauna as far as the eye can see. One of our favourite stops along this 14km-long pass includes the Dinosaur Interpretive Centre at Glen Reenen – a celebration of the many dinosaur fossil sites unearthed in this area (one being the oldest dino egg ever found, dated at 200 million years in age!). While one can explore this national park on a day trip, most people fall in love with the incredible beauty and stay on longer to enjoy a wide range of activities, including horse riding, hiking, 4×4 trails and white-water rafting.
Some other highlights on the pass include a stop at the Van Reenen Family Graveyard, Gladstone Dam Lookout, Brandwag, Mushroom Rocks, a vulture restaurant and, for history and geology buffs, the Anglo-Boer War Ammunition Dumping Site and Dolerite Dyke viewpoints. The park is also home to one of only two Afromontane forests in the country (the other being in Graskop, Mpumalanga). One final highlight is a visit to the Basotho Cultural Village to learn about the traditional lives of the Basotho people who have lived in the vicinity and just across the border in Lesotho for centuries. Visitors are taken on a tour run by actors in traditional dress to meet the chief, sample the traditional beer, be entertained with a display of traditional dance and learn about the benefits of the curious spiral aloes (unique to the Drakensberg) medicine from a traditional healer. You can overnight in a traditional Basotho rondavel.
Some 20km west of Golden Gate is the artsy town of Clarens, remarkable for its dressed stone architecture glowing under the sandstone massif of the Rooiberge and the Malutis to the southeast. All year round, but particularly during spring when the fruit trees blossom or autumn when the leaves turn gold, this dorpie is a scenery magnet for artists and photographers. It's a true arts and crafts centre, with the small streets lined with studios, shops and eateries (where, at most, you can enjoy some delicious local craft beer). This town is often the last stop for 4×4 tours from Lesotho and the famous Sani Pass. Next time, we'll pack the Jimny for a trip through the passes of Lesotho – certainly a bucket list item for many adventure travellers!
Another small town in the Free State absolutely worth a visit is Parys, some 300km northeast of Bloem and only about 100km from Jozi. With its many galleries, antique shops, water, and adventure sports, the town offers the ideal weekend spot for campers who enjoy angling. For us, the more significant attraction around this area is the Vredefort Dome, 10km south of town. Some two billion years ago, an asteroid the size of Table Mountain slammed into earth at an estimated speed of 30,000km/hour to form a 300km-wide crater. There is a well-designed, interactive visitor centre and many tours available, but the multi-day Vredefort Meteorite hiking trail gives a whole different perspective of this geological wonder – well worth exploring!
Of course, this vast province is littered with interesting small towns and dorpies worth exploring. One of our favourites must be Philippolis, at just under 40km² it is smaller than some of the big maize farms in the region. What makes this town particularly special is an interesting conservation project on the banks of the Vanderkloof Dam where you can see Bengal tigers – yes, you read that right – in the wild. A powerful wildlife experience that will leave all who visit changed forever, Tiger Canyon has been in operation for 21 years and now boasts a total of 17 second, third and fourth generation wild-born, wild-raised tigers roaming the golden grasslands. Add to this a walking safari amongst cheetahs and you will understand why this is a must-visit.
Another small dorpie we stumbled across was Rosendal, about 90 minutes from Clarens. Viewed as one of the province's best-kept secrets, Rosendal is home to a scattering of artists, eateries, and lots of wide-open blue sky. It's a special place to get some downtime and take in some of the inspirational landscapes surrounding this tiny hamlet. Similarly, the small town of Bethulie offers freedom to breathe. An important historic spot – it was home to a concentration camp that housed over 500 women and children during the Anglo-Boer war – the town's highlight must be the Royal Hotel. Unassuming from the outside, this gem offers one of the country's largest book and vinyl LP collections.
A short 45-minute drive away, you will find the enormous Gariep Dam (the biggest man-made dam in SA). An oasis en route to Cape Town, you should consider staying a bit longer to explore the area. We stayed the night and enjoyed an even more breathtaking stargazing experience than anywhere in the Karoo due to the stars' reflection on this vast body of water. Other activities include a myriad of challenging mountain bike trails, river rafting, boat cruises and a gliding experience showing the contrast of the adjacent arid Karoo against the lush green river banks – incredible.
We have only scratched the surface of what this amazing province offers. There are many other small towns such as Memel, Koffiefontein, Jagersfontein, Fouriesburg, Zastron, Smithfield, Ficksburg, Springfontein and Fauresmith (to name a few) – each offering unique experiences.
If we have learnt one thing putting these getaways together for you is that we live in the most diverse and beautiful country in the world. Take the time to discover the gems in the South Africa platteland and be prepared with our tips to make the most of any road trip: The ultimate guide to planning a holiday road trip | Suzuki
South Africa is a traveller's dream and we get to call it home – why not book a test drive in one of the Suzuki's and head out to explore? 
---


[ad_2]

Source link